Oil Fortification - The Revival of Vital Nutrition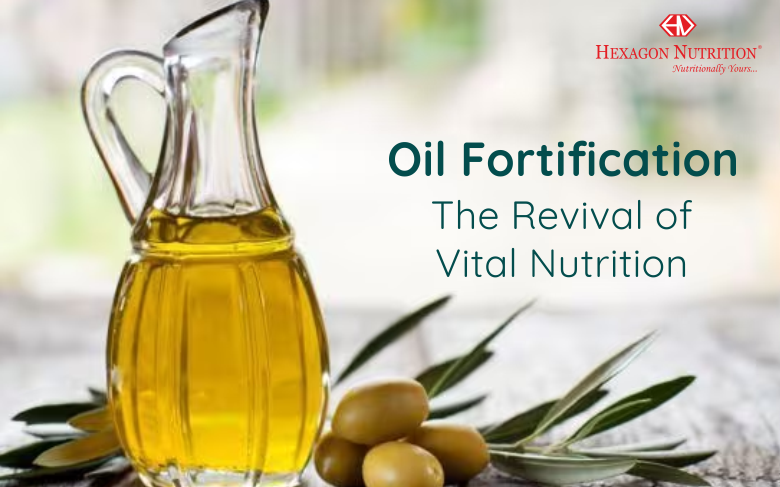 What exactly is Oil Fortification?
According to the World Health Organization (WHO), fortification is "The practice of intentionally elevating the content of an essential micronutrient, i.e. vitamins and minerals (including trace elements) in a food & oil, in order to improve the nutritional quality of the food supply and to provide a public health benefit with a low risk to health," whereas enrichment is "commonly associated with fortification and refers to the addition of micronutrients to a food."
The Fortified Edible Oil Market was estimated at USD 11.80 billion in 2022 and is expected to increase at a CAGR of 4.37% from 2023 to 2030. Growing health awareness and regulatory initiatives, widespread usage of cooking oil, and FSSAI-mandated fortification of edible oils are projected to boost the market over the forecast years.  According to a recent oil production-consumption landscape analysis total oil consumption in India is 24 Million Metric Tons (MMT) annually, with the organized sector producing 19 MMT and the unorganized sector producing 5 MMT. Because the majority of the oil industry is organized, a large portion (7 MMT) is used for institutional purposes in the confectionery and food industries. The middle and small-scale industries create around 5 MMT of the oil share, which is sold in certain states and areas. Leading oil brands produce and market a substantial volume of oil (7 MMT), which is distributed throughout the country.
The technique of purposely raising the level of critical micronutrients in edible oils to improve nutritional quality and give a public health benefit with minimal risk to health is referred to as fortification. This is accomplished by including vitamins and minerals.
All types of edible oils can be fortified, including soybean, cottonseed, palm olein, peanut, and mustard. Individually, enriched edible oil can help a person fulfil 25-30% of the required daily intake for vitamins A and D, according to FSSAI. Fortified edible oils are classed as Soy Oil, Palm Oil, Rice Bran Oil, Sunflower Oil, Canola Oil, Olive Oil, and Others, depending on the product. Vitamin A, Vitamin D, Vitamin E, and other micronutrients are found in edible oils.
Need of Oil Fortification
Today's meals are either low in vital vitamins and minerals, or the nutrients have been damaged by extensive processing. Vitamins are a fundamental component for life to exist. A vitamin deficiency, on the other hand, can jeopardize your health and complicate your life with a variety of health difficulties. Most food industries have begun to address this need by developing suitable vehicles for fortifying food to prevent micronutrient deficiencies. Cooking oil is one such channel for transporting micronutrients , refined oils are being consumed more widely over the world as this trend is avoidable even among the poorest segments of the community. Because this category includes the majority of the population, oil fortification became a vital duty to address shortages. Fortification will help vulnerable people overcome health concerns connected with vitamin deficits found in oil.
Significance of Enriched Edible Oil
Rapeseed oil, soy oil, cotton seed oil, and groundnut oil are the most common edible oils produced in India. With 99% penetration, edible oils are an essential component of cuisine in Indian households. Palm oil is the most widely used oil (38%), followed by soybean oil (22%).
Thus, by fortifying edible oils, it is possible to improve people's access to fat-soluble vitamins. Cooking oil fortification with vitamins A and D is both technically and economically possible, and it is a successful model.
Both vitamins A and D are stable. Vitamin A is more stable in oils than in any other food. Cooking losses range from 5% when boiling to 20% when deep frying. Vitamin D has the same stability as vitamin A, with little or no loss during processing or storage. Oil fortification has no effect on the taste, flavor, or color of the oil. Because vitamins A and D are fat-soluble, they may be easily added to oils without the use of expensive equipment, and the method is inexpensive.
How edible oil is fortified?
The oil is fortified by the addition of fat-soluble vitamins. They can be added individually or as part of a multivitamin liquid blend. To minimize vitamin loss, these vitamins should be added after the deodorization stage. Other nutritional ingredients, in addition to vitamins, are supplied based on the nutritional requirements of that geographical area. The addition of these micronutrients is done in the same way as antioxidant dosage is done in oil refineries. To ensure that these micronutrients are blended uniformly, a tiny batch of vitamins is measured and added to a small bit of heating oil before being mixed with the bulk quantity prior to homogenization.
Key health benefits:
– Prevention or reduction of diseases caused by a lack of key micronutrients in a certain population
– Correction of a documented micronutrient deficit in a specific group
– A chance to improve one's health and nutritional state, which may have deteriorated owing to unforeseen circumstances.
– Possible advantages include enhancing or sustaining public health.
Conclusion
The FSSAI is considering making vitamin A and D fortification of edible oil mandatory. The FSSAI's regulatory actions and growing health awareness are expected to drive the agenda of edible oil fortification across the country. Edible oil fortification involves simple blending and is simply accomplished without the use of specialized equipment. However, the above-mentioned important points should be considered, and the fortification process should be carried out in a controlled manner to produce quality assured fortified edible oils.