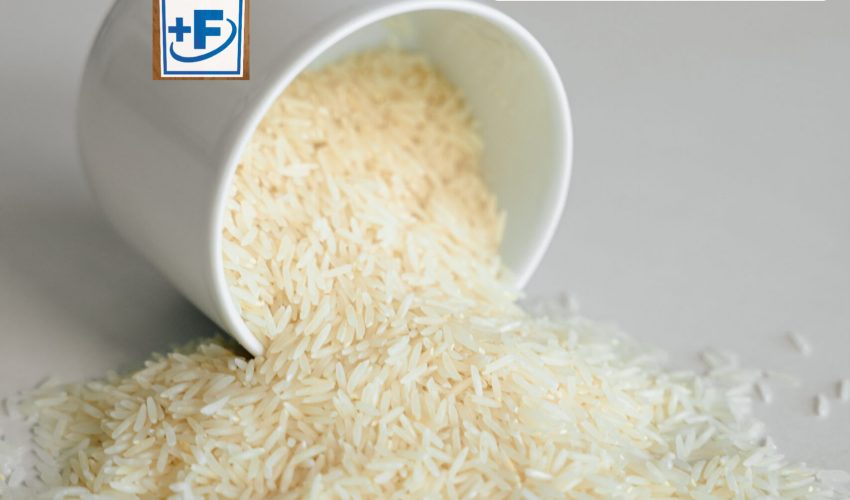 Prevalence of malnutrition in India
The double burden of malnutrition i.e., the coexistence of undernutrition and overnutrition, is a major public health challenge for many countries globally,  including India. According to the findings of the National Family Health Survey  (NFHS)-5, 18.7 % of women in India are underweight i.e., they have a BMI less  than 18.5 kg/m
2,
and 24 % of Indian women are either overweight or obese  i.e., they have a BMI above 25 kg/m
2
. More than 50 % of children and women  are anemic. The NFHS report also captures data on the prevalence of diabetes  and hypertension in India, and it indicates the growing risk of these lifestyle diseases in India. To address these public health concerns, it is important that  appropriate nutrition-specific, and nutrition-sensitive interventions are planned on a large scale.


Combating Micronutrient Malnutrition through Food Fortification 

Public health solutions such as diet diversification, food fortification, and micronutrient supplementation can significantly reduce the prevalence of micronutrient deficiencies in India. Food fortification is a high-impact solution to prevent, reduce, and control the prevalence of micronutrient deficiencies. It is a cost-effective strategy that can improve the nutrition status of all  population groups in India.
Food regulations and policies are already in place to support the fortification of  staple food products in the country. Recently, the Indian government has  decided to distribute fortified rice across different government schemes. This  move can significantly impact the status of micronutrient malnutrition. Rice is a major staple food product in India with a per capita consumption of 6.8  kilograms per month. Ensuring the quality of fortified staple food products  such as rice is very important. Rice is an ideal vehicle for fortification. It helps in improving the health outcomes, particularly for vulnerable population groups, and thereby helping India to attain its nutritional goals. Food Quality Assessment survey recently undertaken by the Food  Corporation of India (FCI) shows that 86% of the fortified rice samples  collected from the rice millers in the state of Punjab had fortificants below the limits prescribed by the Food Safety and Standards Authority of India (FSSAI). To prevent such lapses in the future, it is important to shift our focus to ensuring the quality of fortified foods. To do so, it is important to follow the guidelines recommended by the food regulatory authority.. For example, to produce high-quality fortified rice with nutrients per the prescribed limits, it is important to follow practices prescribed in the FSSAI's 'Technical Hand-out on  Fortification of Rice'. FSSAI, the food regulatory authority in India has prescribed limits for fortifying  rice with iron, folic acid, and vitamin B12. Additionally, rice can be fortified with micronutrients such as zinc, Vitamin A, Vitamin B1, Vitamin B2, Vitamin  B3, and Vitamin B6. Fortified rice is produced by adding manufactured
Fortified
Rice Kernels (FRK)
to the normal rice. FRK
s
are produced following either of the two processes – the Hot Extrusion Process and the Cold Extrusion Process. In Hot Extrusion Process, rice kernels are exposed to heat i.e. 70°C -110°C &  hence the product is precooked, whereas, in the Cold Extrusion Process, the  fortified rice is not pre-cooked, but simply combined with the micronutrient  premix without much processing. The extruded rice kernel is then dried, cooled, and packed. Cold Extrusion Process of #fortifiedrice is set-up at @CEFF @NIFTEM, Kundli, Haryana, as a demonstration unit, to provide information and enhance the knowledge about the process of  FRK production and Rice Fortification. It is open to all the stakeholders,  including Food Safety Officers (FSOs), academia, students, food industry partners, development sector partners, etc. This will also serve as a hub to sensitize the stakeholders and build the capacity  of the food industry in producing quality assured FRK & Fortified Rice, conforming to the standards gazetted by FSSAI.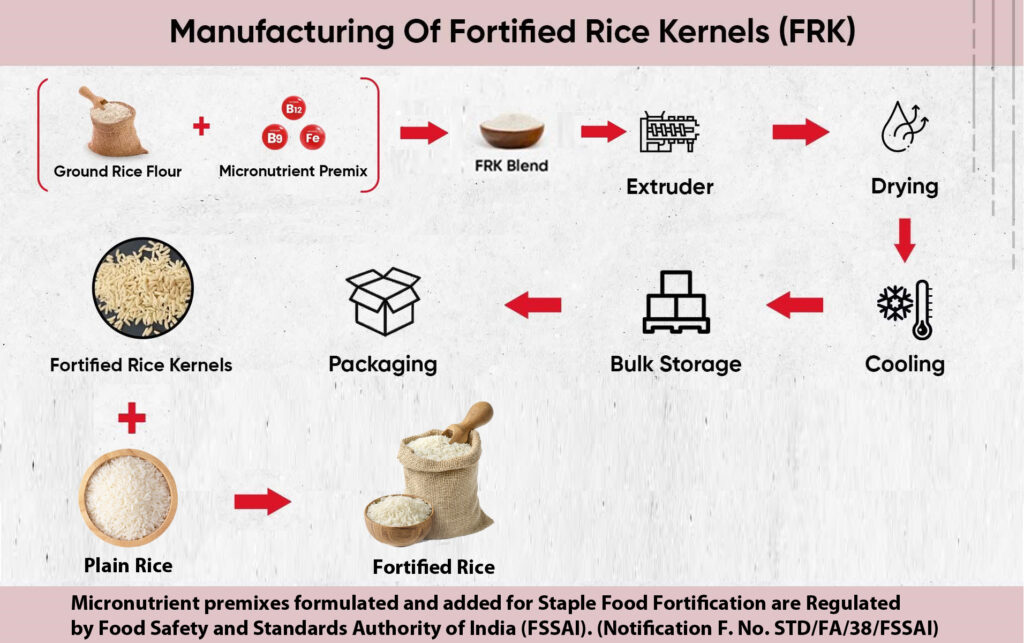 #HexagonNutrition is a leader in global health innovation and is at the  forefront of implementing effective approaches to boost and enhance rice fortification worldwide. It caters to the micronutrient premix requirements to produce FRK using both hot & cold extrusion processes. Hexagon Nutrition is a preferred partner for many renowned multinational fortified rice brands, governments, and international NGOs globally.
As an organization producing high-quality Micronutrient Premixes, using  scientifically proven methods, we follow the following practices to ensure the production of high-quality fortified rice kernels.
Process the raw materials for FRK in the right way
Rice, used to prepare FRK have an initial moisture content of 11- 12%. The flour is ground using a 30-60 mesh sieve.
Food grade Vitamin and Mineral premix used to prepare FRK is as per the prescribed Food Safety Standards (Fortification of Food) Regulations, 2016
HN follows FSSAI's standardized ratio for Micronutrient Premix
FRK are blended with traditional rice in ratio between 1:50 to 1:200 (Notification F. No. STD/FA/38/FSSAI)
We follow the recommended blending ratio
Mix 10g of FRK with 1 kg of regular rice. Thus, 1 kg of fortified rice produced using this ratio, contains- 28 mg-42.5 mg of iron, 75-125 micrograms of Folic Acid, and 0.75-1.25 micrograms of Vitamin B12.
Homogenised mixing of Rice
Homogeneously fortified rice is produced by feeding the rice in a  1:99 w/w ratio to the blender, FRK blended with traditional rice in ratios between 1:50 to 1:200
Should Have an appropriate Quality Control plan Ensure routine quality assessments before the fortified rice stock is distributed in the market and consumed by the masses.