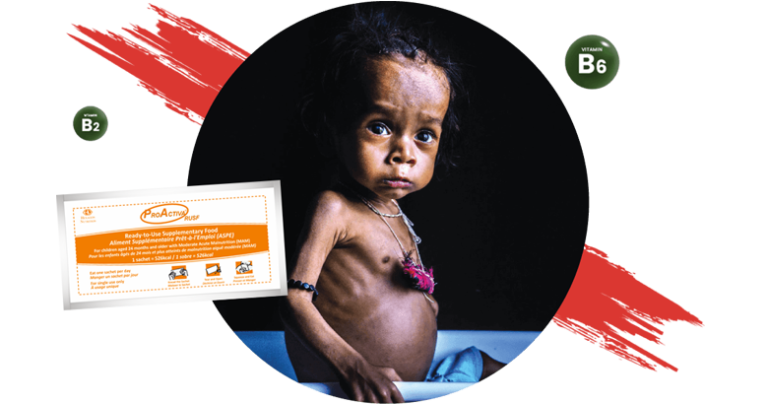 What does RUSF stand for?
RUSF stands for Ready-to-Use Supplementary Food. It is a fortified paste made up of sugar, dried skim milk, oil, and a micronutrient premix of essential vitamins and nutrients. It may also include groundnuts (peanuts), oil seeds, and soya. RUSF is intended for children with Moderate Acute Malnutrition (MAM). They are prepackaged and ready to be consumed immediately without preparation.
The formulation delivers all the nutrients to reduce or eliminate the shortfall in local diets and helps meet daily requirements, unlike fortified blended foods that require further preparation at home.
What nutrients are in RUSF?
RUSFs can be made with a custom composition of micronutrients but generally contain fat-soluble vitamins (A, D, E, K), water-soluble vitamins (B1, B2, B6, B12, C, folic acid, pantothenic acid, niacin, biotin), essential minerals (sodium, potassium, calcium, phosphorus, magnesium, manganese, iron, zinc, copper, selenium, iodine), and fats.
With these nutrients, home use is possible and the product is particularly well adapted to emergency contexts or to nutritional programs to prevent malnutrition.
Protocol and Instructions for use:
RUSF has to be prescribed and initiated by a trained health and nutrition professional only.
RUSF shall be used according to the national protocols on the management of Moderate Acute Malnutrition (MAM).
If there is no national protocol, the standard regimen is up to 75kcal/kg/day per child for an average period of 6 to 8 weeks.
It is best for targeted supplementary feeding programs. It can also be used in blanket supplementary feeding programs.