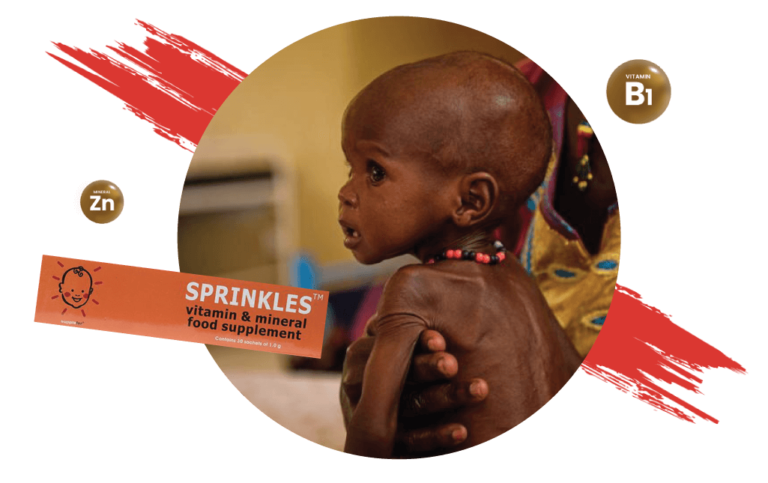 Sprinkles is an innovative home fortification method to improve the health and well-being of women and children by combating vitamin and mineral deficiencies.
​Sprinkles is a 1 gram sachet that can be easily mixed into any food prepared at home. It does not interact with food components or significantly change the taste, colour or texture of the food to which it is added.
​Sprinkles not only attempts to restore the nutritional status of preschoolers who are already undernourished, but also focuses on preventing malnutrition in mothers during pregnancy and in infants and young children during their first two years of life.
​Community-based studies on Sprinkles involving both anaemic and non-anaemic children have been completed in more than eight international locations, all showing success in treating and preventing anaemia.
What Varieties of Sprinkles Micronutrients are Available?
Nutritional Anemia Formulation Sprinkles TM is available in 2 types as below:
MNP 5 which is a combination of 2 vitamins and 3 minerals:
Vitamin A

Vitamin C

Iron 

Zinc

Folic acid 
MNP 15 which is a combination of 10 vitamins and 5 minerals:olic acid
Vitamin A

Vitamin B1

Vitamin B2

Niacinamide

Vitamin B6

Vitamin C

Vitamin E

Folic acid

Vitamin B12

Vitamin D

 Copper

Iron

Zinc

 Iodine

 Selenium
Sprinkles for Pregnant and Lactating Women also comes in single one gram daily servings. It contains the same vitamins and minerals as the Multi-Micronutrient Sprinkles, but the levels have been optimised for pregnant and lactating women. Micronutrient Powder for School Feeding Programs is a special variety that is specially formulated for school feeding programs. Each 8g sachet is enough for 20 servings.
A number of organisations all over the world use Sprinkles micronutrients, including:​
 More than 20 national governments, provincial governments and ministries of health
 Over a dozen UN organisations and global NGOs focused on malnutrition and global health
 Multiple universities conducting pilot nutritional studies using micronutrient powders
 Nutritional Anemia Formulation Sprinkles TM is recommended for use in a number of child health and anaemia prevention programs
Who developed Sprinkles TM ?
Sprinkles were first developed by Dr. Stanley Zlotkin. They are used as a part of the Sprinkles Global Health Initiative. Watch this video for the complete background:
Where can Sprinkles TM be purchased?
There are a limited number of nutritional Sprinkles manufacturers in the world. Hexagon Nutrition is happy to be an official supplier of Sprinkles micronutrient sachets. Please contact us for your orders.
The use of Sprinkles TM to fight malnutrition in Kenya: 
SprinklesTM used in Guatemala as a cover on the
Disclaimer: The above mentioned READY-TO-USE THERAPEUTIC FOOD (RUTF) is manufactured, traded, and endorsed by Hexagon Nutrition only for export purposes. For more information on our nutrition products and services, contact our team at [email protected]