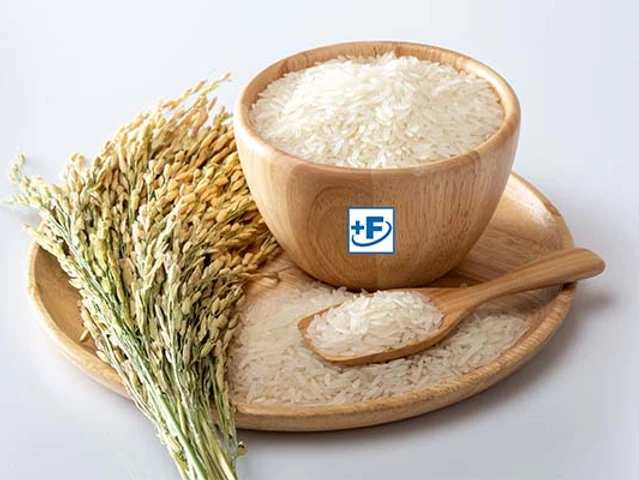 What are Fortified Rice Kernels & Its Role in India?
Fortified rice kernels are rice kernels that are either coated or extruded with the right blend of vitamins, minerals & other micro-nutrients including a powdery blend of nutrients that is sometimes dusted onto unfortified rice. The government of India contributes over 300 lakh tonnes of rice through various schemes covered under the National Food Security Act, 2013 where the Centre has allocated 328 lakh tonnes of rice under NFSA for schemes such as the Targeted PDS, MDM, and Integrated Child Development Scheme (ICDS) in 2021-22. These Fortified Rice Kernels form a crucial aspect of Indian Nation Health policy as it has the power to fight hidden hunger & combat malnutrition by making proven improvement in the physical health of every child consuming high iron-fortified rice for 6 months.
Rice fortification is a cost-effective strategy to address micronutrient deficiency in countries with high per capita rice consumption. Producing Fortified rice Kernels majorly includes sourcing Fortified Rice Kernels (FRK) from the manufacturer and Blending 1 part of Fortified Rice Kernel with 50 to 200 parts (generally 1:100) of polished raw or parboiled rice, followed by Bulk Storage and Packing. The expense of fortification is concluded by a number of appropriate variables such as the structure and capacity of the rice industry, the complexity of the supply chain, the policy, and regulatory environment, and the scale of the relevant program. Hence, the Food Safety and Standards Authority of India (FSSAI) has established standards to regularise the production, procurement, supply & promotion of Fortified Rice Kernels.
Process & Methods of Rice Fortification
The selection of Raw Materials is crucial because it needs to meet the cooking quality of regular rice grains bearing longer shelf life. Major ingredients for the production of extrusion of fortified rice kernels include Rice flour at an initial moisture content of 11-12% ground to flour using 30-60 mesh sieve; Food grade Vitamin and Mineral premix as per Food Safety Standards (Fortification of Food) Regulations, 2016. ; FSSAI approved Acid regulators and Emulsifiers (Pentasodium Triphosphate – INS 451 (I), Citric Acid INS 330, etc) & Potable Water (IS 10500: 2012).
The standardized ratio of premix that is used to develop fortified rice kernels: To produce fortified rice kernels, they are blended with traditional rice in ratios from 1:50 to 1:200, with the ideal being 1:100, as per information available on the Food Safety and Standards Authority of India's website. https://ffrc.fssai.gov.in/commodity?commodity=fortified-rice#brandlist
Under the Ministry's guidelines, 10 g of FRK must be blended with 1 kg of regular rice: According to FSSAI norms, 1 kg of Fortified Rice will contain the following: Iron (28 mg-42.5 mg), Folic acid (75-125 microgram), and Vitamin B-12 (0.75-1.25 microgram). Rice may also be fortified with Zinc (10 mg-15 mg), Vitamin A (500-750 microgram RE), Vitamin B-1 (1 mg-1.5 mg), Vitamin B-2 (1.25 mg-1.75 mg), Vitamin B-3 (12.5 mg-20 mg) and Vitamin B-6 (1.5 mg-2.5 mg) per kg.
Choice of blending machine depends on the Rice mill capacity; Efficacy of blending with potential damage to the kernel, precision of mixing; time of blending, and the overall operational and maintenance cost. Hoppers are to be connected to control grain flow & feeding to the blender with a dosing system that is used to produce homogenous Fortified Rice by feeding the rice in a 1:100 w/w ratio to the blender.
Quality Assurance/ Quality Control (QA/QC) plan needs to be in place for Rice Fortification by the FRK producer where every consignment of the original broken rice is tested at a (NABL)/FSSAI Accredited Laboratory; the Vitamin Premix should be procured from a certified source and tested by a premix supplier at a NABL/FSSAI Accredited Laboratory with the water to be used. The Finished product will be tested for Microbial load and Micro-nutrient Content Heavy metal contaminants with the blending ratio at a (NABL)/FSSAI Accredited Laboratory as well.
Once the test results have been compiled, the Fortified Rice Kernels are all set to be packed and shipped from the manufacturing facility to the blending/warehousing facility. The government has issued uniform specifications for Fortified Rice Kernels (FRK) for grade A & Common Rice and for Central Pool procurement especially with regards to Paddy, Rice, and other coarse grains namely Jowar, Bajra, Maize, Ragi under which it's advised to blend 1% of FRK (w/w) with normal rice stock. The FCI has delivered fortified rice to 17 lakh children under the Mid-Day Meals (MDM) scheme and 55,607 Anganwadi centers under the Integrated Child Development Scheme (ICDS) for 2021-22 in Andhra Pradesh.
Hexagon Nutrition as a fellow nutrition partner encourages different types of processes used for Fortified Rice Kernels that include the Hot Extrusion process where the rice kernels are exposed to heat i.e. 70°C -110°C & hence the product is precooked, whereas under Cold Extrusion the fortified rice is not pre-cooked, but simply combined with the micronutrient premix without much processing. In certain techniques, micronutrient premixes are combined with ingredients like gum and waxes, which are later sprayed on the rice like a coating OR fortified using electrostatic force for binding rice grains with micronutrient premixes under dusting.
Importance of  Food Fortification in India
As per latest news & reports, the existing pilot schemes look like a flash in the pan but the government has planned to ignite their efforts & go great lengths in distributing fortified rice to 112 districts through Integrated Child Development Services and Mid-Day Meal schemes. With a total approved budget of ₹174.6 crore for a three-year period from 2019-20 onwards, it's expected that supply of fortified rice scales up from the current 15,000 tonnes to at least 1.3 lakh tonnes.
We believe if Malnutrition is the problem, Food Fortification is our best chance to change it. We manufacture, market & supply scientifically formulated premixes to governments, multinational food manufacturers, and international NGOs across the globe, as a nutrition brand with a 360-degree spectrum of illness, wellness, and lifestyle disease management. Visit us at https://87f.1e3.myftpupload.com/frk to know more about our rice fortification process and services