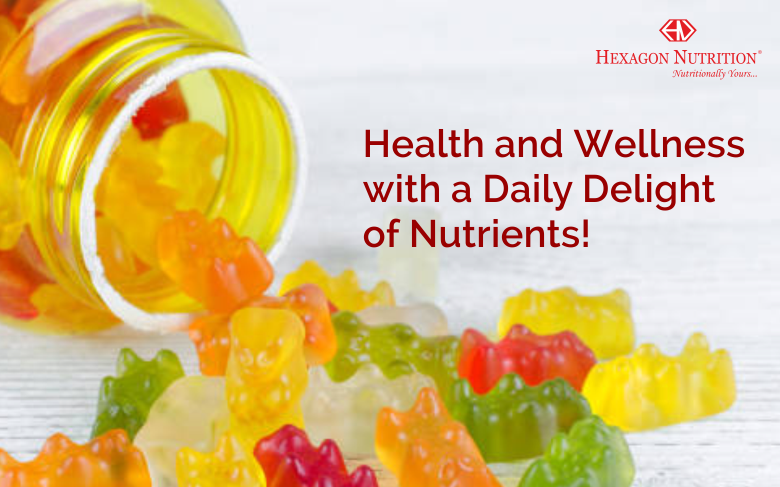 In recent years, the world has seen a significant increase in chronic diseases and health issues among the general population, which has resulted in a greater emphasis on health and fitness. High consumption of junk food, changing lifestyle trends, and many other factors have increased the demand for nutritional supplements such as multivitamin gummies for children and adults, owing to an increase in consumer awareness about the benefits of vitamins and some other key factors that will govern the consumption of gummy vitamins over the forecast period.
Multivitamin gummies are a form of chewable confections with the addition of vitamins and minerals. These vitamins may appeal to children and adults who dislike taking pills. Knowingly increasing the content of one or more micronutrients in gummies to improve the nutritional quality of the food and provide a public health benefit with minimal risk to health is called as a fortification. Fortified gummies are a type of functional food that is intended to promote a healthy lifestyle. These can be specifically designed to aid in sports performance, children's growth and development, weight management, digestive health, and overall heart health.
What role do vitamins and minerals play in our bodies?
Vitamins and minerals are the two most vital nutrients with other macronutrients that your body requires to survive and thrive. Vitamins support your body to grow and function properly. There can be a range of essential minerals and vitamins in multivitamins premixes for gummies including vitamins A, C, D, E, K, and the B vitamins – thiamine, riboflavin, niacin, pantothenic acid, biotin, B6, B12, folate and more. Vitamins perform various functions in the body to keep it running smoothly. Some vitamins help you fight infections and keep your nerves healthy; while others help your body absorb energy from food properly.
Demand for fortified gummies in the global market:
Three key factors contribute to the success of fortified gummy supplements. First, they taste better than other supplements. Second, they eliminate the difficulties of swallowing large tablets or capsules, which can be especially difficult for children and the elderly, and third, taking supplements in gummy form gives people the impression that they are taking candy delight with multiple benefits.
According to a recent consumer survey, 75% of adults take dietary supplements on a daily basis. Dietary supplements, particularly those containing vitamins and minerals, are widely used. Consumers, on the other hand, are increasingly demanding more convenient dosage forms. According to Market Research, the Global Gummy Vitamins Market is expected to reach $10.3 billion by 2027 at a CAGR of 9.6%. Because of rising health consciousness among consumers and rising cases of vitamin deficiency, India has the potential to make a significant contribution to the market gummies aims to be at the top of the industry in the next 5 years, having a market percentage of 45-50%.
Gummy bears taking over the multivitamin crown!
The leading trend for convenient supplements like nutritional gummies offers brands the to bring innovation into their product range. Within those groups, gummy supplements with multivitamins will enable concepts for day-to-day health (to maintain or improve overall health or to replace lost nutrients due to diet, age, or a health condition) as well as for specific purposes (e.g., sports nutrition, brain health, beauty from within). A volatile market Vitamin-enriched gummies first appeared on the global market as a tasty alternative to traditional children's and women's vitamins and minerals, which had previously been available in the form of unpalatable medicinal syrups or chalky, chewable tablets. However, the market has evolved significantly since then, as people of all ages have actually realized that gummies make vitamins and other nutrients more enjoyable – and easier – to consume.
The growing demand for healthy food and beverages has resulted in an increase in the consumption of sugar-free products such as energy gums, which are considered healthier than other sugary soft drinks or carbonated beverages. The main reason for the growth of this market is its convenience and ease of carrying it anywhere with them, making it even more popular among consumers of all ages, including the youth population.
Taste is important, but so is health. Consumers are primarily looking for a treat when purchasing confectionery products. As a result, flavour and texture are crucial. People will not buy gummy candies simply because they claim to have health benefits. Therefore, while a product's well-being aspect may stimulate consumer interest, that product will only be successful if it meets and exceeds the expectations of a confectionery treat. The texture-providing properties of gelatine are primarily responsible for the immense popularity of fortified gummies today. If you need multivitamins but find it difficult to swallow pills, these chewable vitamins are the best option. Fortified candies are tasty and simple to consume and digest. Manufacturers of fortified candies typically use smaller doses of vitamins. However, we should keep these out of your children's reach because they can overdose on these candies.
Why should you choose fortified gummies?
These fortified gummies are simple to consume. The majority of gummy vitamin supplements should be taken with food or meals. Chewing and salivating break down the gummies before they reach the stomach, making them more digestible. These can improve children's health and reduce the number of malnourished children and it can strengthen overall health conditions.
Where can I get fortified gummies?
There are wide varieties of multivitamin-fortified gummy premixes supplied by some of the well-known nutrition companies that can enrich any kind of food with the essential nutrients according to the limits set by FSSAI for India and global food authorities for respective countries. These are available for kids, women, specific health conditions, skin and hair treatments, and a lot more.
Right choices and healthy eating matters. The groundwork for all happiness is good health!