Healthier Children Lead to a Healthier Future.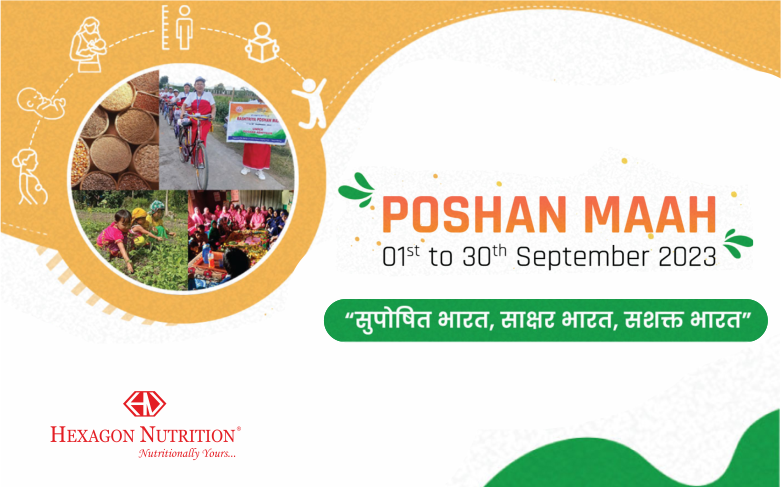 'Suposhit Bharat, Sakshar Bharat, Sashakt Bharat' 
(Nutrition-rich India, Educated India, and Empowered India)
Poashan Maah 2023's theme emphasizes the importance of nutrition, education, and empowerment in developing a healthier and stronger country. Everyone wants their child to be healthy and confident in themselves, both emotionally and physically. Consideration of nutrition in your child's development, particularly during the first five years of growth, will have an impact on their health now and in the future. The foods you give your child when they are growing and developing quickly will set them up for a healthy and well-balanced life.
Aim:
This integration attempts to build an integrated nutrition support program that improves nutritional service content, delivery, outreach, and overall outcomes. The primary emphasis is on supporting practices that increase health, wellness, and resistance to illnesses and malnutrition.
Statistics:
Malnutrition in children is a serious public health issue worldwide, whether overweight or obese, with 41 million children under the age of five estimated to be stunted and 50 million wasted. Children who are malnourished have a higher risk of dying and are more likely to get childhood diseases. According to the National Family Health Survey 5 (NFHS-5), 32.1% of children under the age of five in India were underweight, 19.3% were wasting, and 35.5% were stunted in 2019-2020. The prevalence of underweight and stunting in Delhi was 21.2% and 30%, respectively, according to NFHS-5 data. The current under-five death rate in India is 28/1000, and one of the major factors to under-five mortality is malnutrition in India.
Three essential components for a child nutrition:
MIND: Nourish the brain.
The brain consumes more energy than any other organ in our body, accounting for more than 20% of our daily energy consumption! Because of brain growth, children's calorie/KJ intake, particularly lipids, is higher to meet their developmental needs. The meals we eat influence everything from learning to memory and concentration. Early childhood nutrition may potentially offer benefits that are only measurable later in life. Young children's brains are rapidly developing, and they require a nutrient-dense diet to help them process the world around them. Toddlers and preschoolers may struggle to develop the abilities needed to sustain concentration, which becomes increasingly critical as they grow older. Nutrient-dense foods like salmon, broccoli, and berries, as well as dietary supplements, are just a few examples of foods that have been demonstrated to aid cognitive processes and memory. Processed meals, on the other hand, such as refined sugar, colorings, and other artificial ingredients, can have a bad impact on a child's cognition, making them feel fuzzy and less focused.
BODY: Grow strong and live a long life.
A nutrient-dense diet promotes children's general strength and well-being, allowing them to run around, climb trees, and explore. When caring for children, proper nutrition is critical since it protects against malnourishment, maintains a healthy immune system, avoids obesity, and lowers the risk of chronic disease.
SPIRIT: Create good habits.
It can be challenging to maintain healthy eating habits as a child, especially with fast food and convenience being so frequently pushed. It is critical to assist children in adopting good habits early in life so that they can retain them later in life. A simple meal or dietary supplement can be transformed into an enjoyable and interesting learning experience!
The significance of nutrition in toddlers:
Toddler nutrition is especially important because their bodies are developing at this age and require the proper nutrients to grow and thrive. During the first year of life, they grow rapidly, and their food requirements alter swiftly. Poor nutrition during this vital era can result in long-term health problems such as stunted growth, weaker immune systems, and poor cognitive development. Toddlers must consequently be fed nutrient-rich foods that are age-appropriate and customized to their specific needs. Nutrition is also crucial in assisting kids in developing healthy eating habits. Early nutrition can help children establish a positive attitude towards food, recognize hunger and fullness, and lay the groundwork for healthy eating. Providing sufficient nutrition for toddlers promotes normal growth and development and lays the groundwork for lifelong good eating habits.
How poor nutrition affects the bodies of children:
Obesity is more likely in children who do not eat a well-balanced diet and consume excessive amounts of fat, sugar, and processed carbs. Obesity can cause a variety of long-term health issues in children, including high blood pressure, type 2 diabetes, raised cholesterol, and psychosocial issues. Sugary, processed, and high-fat diets impact children's digestive systems and gut flora. Osteoporosis can be caused by a lack of calcium absorption. Other chronic disorders, such as heart disease, may develop later in life. Early nutrition and lifestyle decisions made by children and their parents can have long-term consequences for youngsters. Because most people achieve their maximal bone mass at the age of 20, it is critical to grow muscular and bone mass during childhood. Overweight children experience weariness and irritation, which can develop into depression. A well-balanced and good nutritional diet is more important than tracking calories in developing kids.
An alternative solution for fussy eater's:
Supplements do not substitute a varied, whole-food diet, but they may be necessary in the case of picky eaters. They not only fill the gaps, but they may also assist in improving your child's eating habits by treating deficiencies such as zinc, protein, vitamins, calcium, micronutrients, and iron that cause them to restrict their food consumption.
Conclusion:
To effectively target undernutrition, all interventions must work together from pregnancy until the child is five years old. To attain optimal dietary practices while addressing social and cultural barriers, an effective social and behavior change communication strategy is required. The national development agenda should include effective monitoring and implementation of programs to combat malnutrition, as well as a focus on reducing child undernutrition. As a result, the spirit of Poshan Maah should be followed throughout the year for improved nutrition outcomes in children, and pregnant plus nursing moms.
#NationalNutritionMonth, #eatrightPRO, #kidseatright